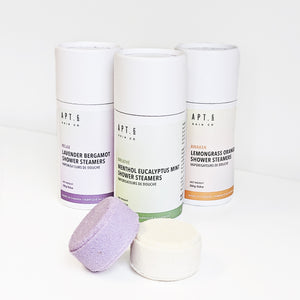 Start your morning on a high note with our invigorating menthol eucalyptus or lemongrass orange shower steamers.  Or relax your body and mind before bed or after a long day at work with the gentle scent of lavender and bergamot
Each compostable paperboard tube contains 4 tablets.   
Depending on the length of your shower, each tablet could last 1-2 uses.
NOT FOR THE BATH
compostable / biodegradable packaging)