Good things come in small batches.
Shower Steamers
Start your morning on a high note with our invigorating menthol eucalyptus or lemongrass orange shower steamers.  Or relax your body and mind before bed or after a long day at work with the gentle scent of lavender and bergamot.
Shop now
Cleansing Balm
Our multi-purpose balm is a gentle daily cleanser, a make-up remover and can even be used as an overnight, leave-on skin treatment. Great for all skin types, including sensitive, oily and inflamed; it melts instantly, soothing the skin.
shop now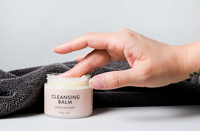 Lip Balms
Hydrating and delicious balms for your lips. Formulated with nourishing ingredients and enhanced with vitamin E. You'll be ready for any environment! 
shop now
Location
The Apothecary
65A Albert Street
Stratford, ON N5A 3K2

519-801-7896
Shop Hours
Mon - Sat, 10am - 6pm
Sun, 11am - 4pm